Doctor of Philosophy in Electrical Engineering (Research) and Master of Electrical Engineering (Research)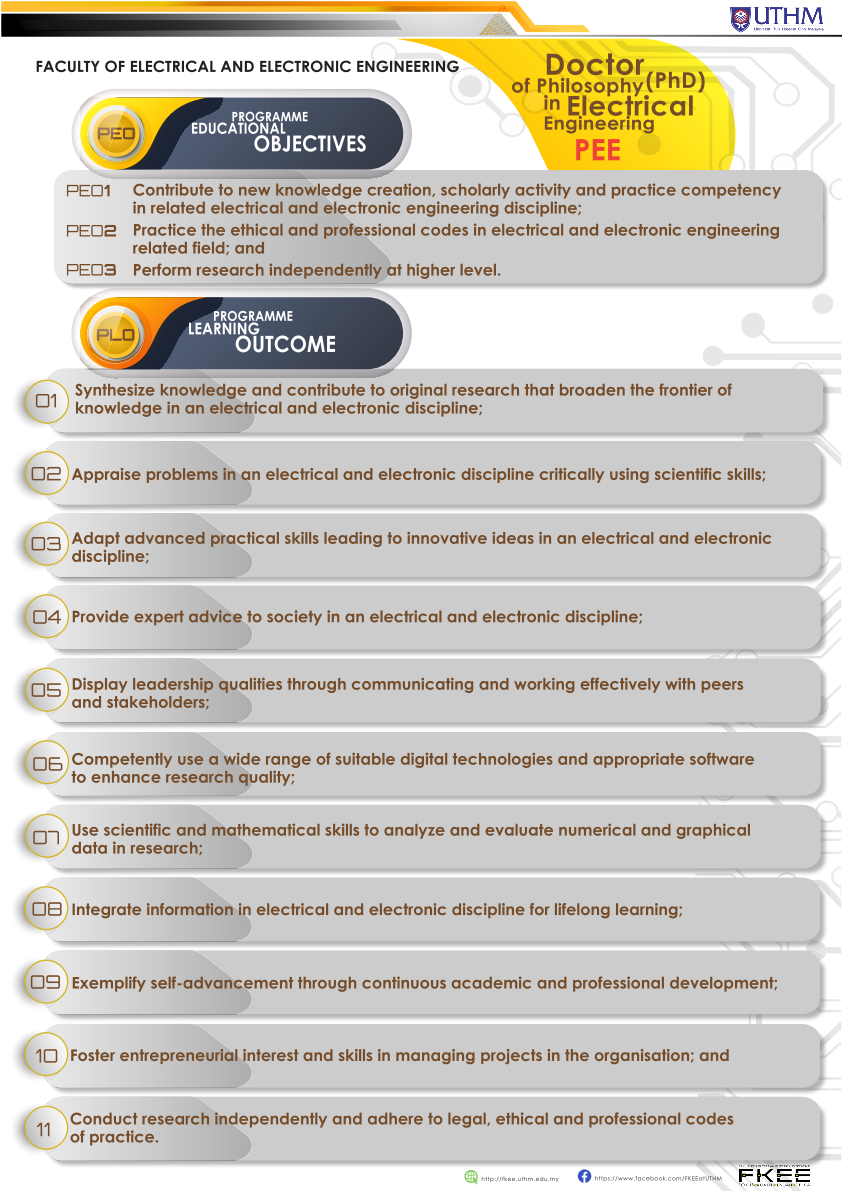 These programmes offer an academic research study in a field of electrical and electronic engineering. The research area covers 5 major clusters; Communication Engineering, Electronic Engineering, Mechatronic and Robotic Engineering, Power Engineering and Computer Engineering.
The area under Communication Engineering covers Mobile Ad Hoc and Sensor Networks, Wireless and Optical Communications, Computational Electromagnetic Compatibility, Ionosphere and Aerospace Sciences, Radio Science and Satellite Communications, Antenna and Wave Propagation, Microwave and RF Engineering and Digital Signal Processing.
While Electronic Engineering offer specialization on Medical Electronics, Microelectronics, Nanotechnology, Biomedical Engineering, Biomedical Imaging, Plasma Processing Technology, Biosensors, Cell Engineering, Telemedicine, Thin Film, Solar Cell, Biomedical Modeling & Simulation and Bioinstrumentation.
In Mechatronic and Robotic Engineering, the research area covers Industrial Automation, Mechatronics and Robotic Systems, Medical Robotic and Teleoperation, Autonomous System, Advanced Computer Vision, Advanced Machine Learning/Neural Networks & Statistical Models,Rehabilitation Engineering, System Modelling and Control Engineering.
Power Engineering applies research on Renewable Energy, Power Quality, Electric Drives, Power Electronics, Industrial Power Systems, High Voltage Engineering, Power System Protection, Power System Planning, Power System Dynamics, Power System Stability and Wide-Area Monitoring.
Research area under Computer Engineering includes a diverse range of topics including High-Performance Computing, Embedded System Computing, Image and Vision Systems, Intelligent Systems, Virtual Reality Systems, VLSI Design and Computer Network and Security.
The minimum semester for full time study for master by research program is 3 semester, while 6 semester for PhD program.
FEES:
PhD program: http://bendahari.uthm.edu.my/v2/pekeliling/yuran/yuranphd.pdf
Master program : http://bendahari.uthm.edu.my/v2/pekeliling/yuran/yuranmaster.pdf
For any inquiries, please contact:
Associate Professor Dr. Shamsul Aizam bin Zulkifli
This email address is being protected from spambots. You need JavaScript enabled to view it.
Tel : +074534512